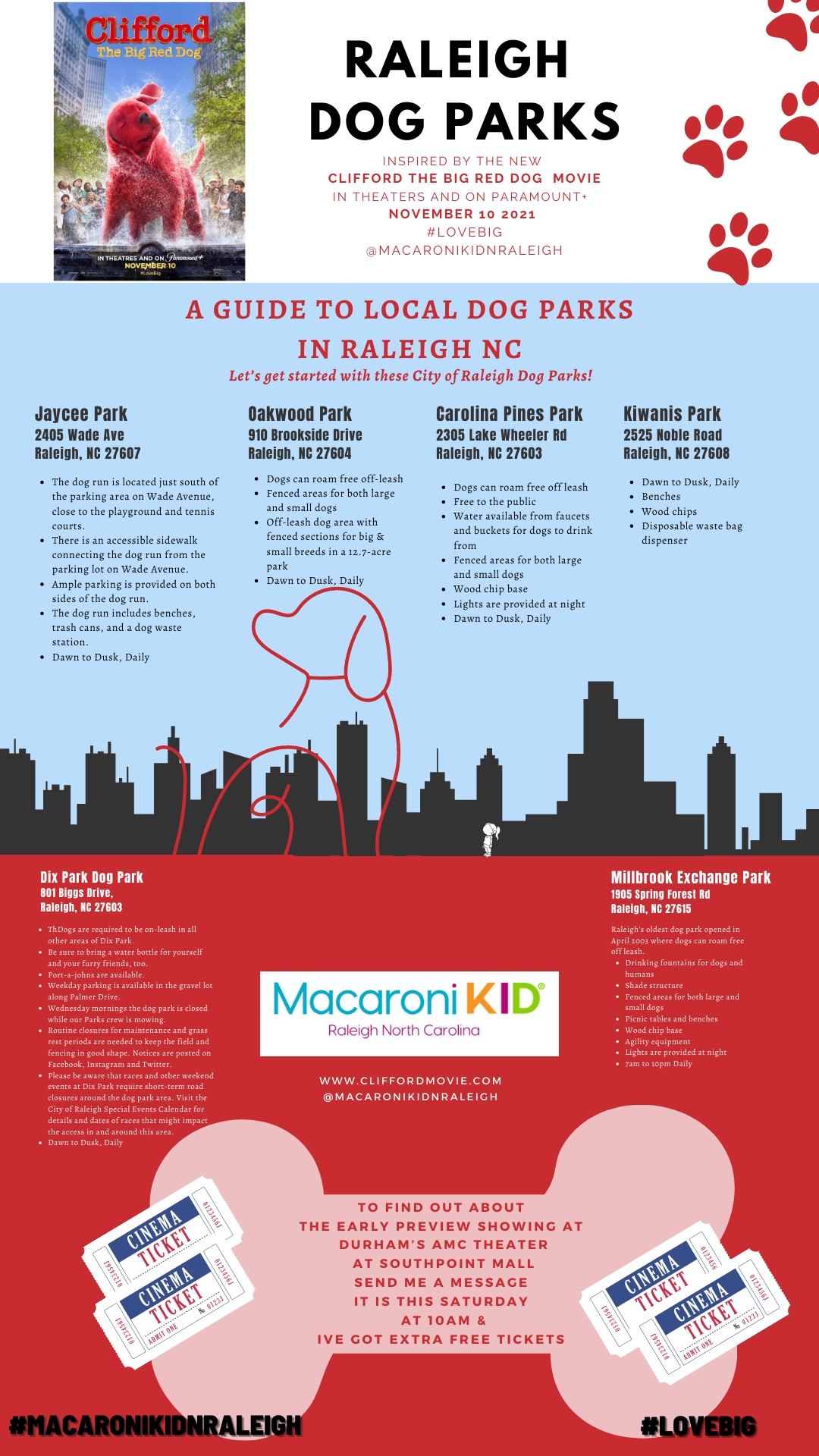 Guide to Local Dog Parks in Raleigh NC
Let's get Started with these City of Raleigh Dog Parks!
Oakwood Park
910 Brookside Drive
Raleigh, NC 27604
Dogs can roam free off-leash
Fenced areas for both large and small dogs
Off-leash dog area with fenced sections for big & small breeds in a 12.7-acre park
Dawn to Dusk, Daily
Kiwanis Park
2525 Noble Road
Raleigh, NC 27608
Dawn to Dusk, Daily
Benches
Wood chips
Disposable waste bag dispenser
Millbrook Exchange Park
1905 Spring Forest Rd
Raleigh, NC 27615
Raleigh's oldest dog park opened in April 2003 where dogs can roam free off leash.
Drinking fountains for dogs and humans
Shade structure
Fenced areas for both large and small dogs
Picnic tables and benches
Wood chip base
Agility equipment
Lights are provided at night
7am to 10pm Daily
Carolina Pines Park
2305 Lake Wheeler Rd
Raleigh, NC 27603
Dogs can roam free off leash
Free to the public
Water available from faucets and buckets for dogs to drink from
Fenced areas for both large and small dogs
Wood chip base
Lights are provided at night
Dawn to Dusk, Daily
Jaycee Park
2405 Wade Ave
Raleigh, NC 27607
The dog run is located just south of the parking area on Wade Avenue, close to the playground and tennis courts.
There is an accessible sidewalk connecting the dog run from the parking lot on Wade Avenue.
Ample parking is provided on both sides of the dog run.
The dog run includes benches, trash cans, and a dog waste station.
Dawn to Dusk, Daily
Dix Park Dog Park
801 Biggs Drive,
Raleigh, NC 27603
Dog Park Relocation - Coming Spring 2022-Dix Park Plaza & Play
Dogs are required to be on-leash in all other areas of Dix Park.
Be sure to bring a water bottle for yourself and your furry friends, too.
Port-a-johns are available.
Weekday parking is available in the gravel lot along Palmer Drive.
North Carolina DHHS administrative headquarters are located on park grounds. Please be respectful of the employees at work and avoid buildings and employee parking areas during business hours.
Wednesday mornings the dog park is closed while our Parks crew is mowing.
Routine closures for maintenance and grass rest periods are needed to keep the field and fencing in good shape. Notices are posted on Facebook, Instagram and Twitter.
Please be aware that races and other weekend events at Dix Park require short-term road closures around the dog park area. Visit the City of Raleigh Special Events Calendar for details and dates of races that might impact the access in and around this area.
Dawn to Dusk, Daily
Rules for Raleigh Public Dog Parks
More information can be found here City of Raleigh Dog Parks
All dogs must:
Be leashed entering and leaving the dog park
Be healthy and fully vaccinated
Get exercise and have fun!
All humans must:
Clean up after their own pet(s)
Stop dogs from digging and fill any holes
Remove choke, prong, pinch or spike collars
Not exceed three dogs in the park at one time
Never offer any food or toys of any kind
Closely supervise any children under the age of 12
Following dogs are not allowed in the park:
Aggressive or uncontrollable dogs. Call Animal Control (919) 831-6311, if needed
Female dogs in season
Puppies younger than four months
Here are some other dog parks to check out!
North Hills Dog park
100 Saint Albans Drive,
Raleigh, NC 27609
The North Hills Dog Park is located in the Park District at North Hills. The 9,500-square-foot dog park is an off-leash dog park and open to the public.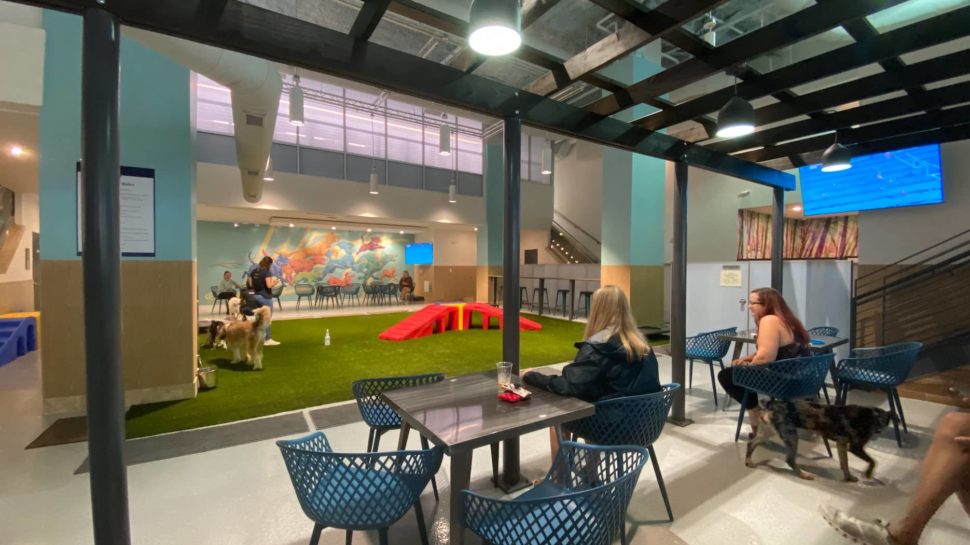 West Street Dog
400 W. North Street,
Raleigh NC 27603
Check out this new local business, It looks really fun and I am planning a trip over there this month so watch for an update!
The unique concept integrates an indoor off-leash dog park with a bar. If you are 21 and up come with or without a dog and enjoy the experience. We also offer overnight boarding for dogs and cats.
Macaroni Kid Raleigh is a FREE resource helping you find family-friendly things to do in your area!
Sign up to receive a weekly calendar of events, guides to activities, local information, and much more.
Find Your Family Fun!